Custom Taxi Booking App Development Company
At Codeflash, we offer customized taxi Booking app development services that cater to your cab booking business needs. With years of experience and a dedicated team of taxi app developers, we develop user-friendly and feature-packed apps that guarantee high ROI. From app ideation to deployment and maintenance, we provide end-to-end taxi app development services that help businesses grow and succeed. Contact us today to turn your taxi app idea into a reality.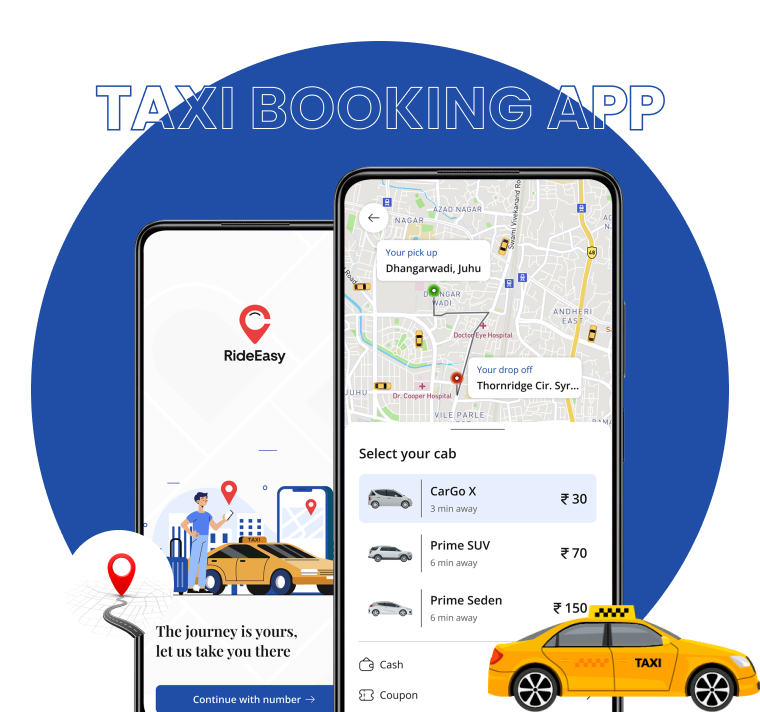 Re-develop Your Taxi Booking App with Must-Have Features
Looking to take your taxi business to the next level? Upgrading your taxi booking app with must-have features can help you increase your market share, boost customer satisfaction, and streamline your operations. At Codeflash, as a top taxi app development company in usa, uk, canada, australia, dubai, uae and around the globe that enable you to add the latest ai based taxi booking app features and functionalities you need to succeed in today's competitive ride-hailing market. Our experienced team of top taxi app developers can work with you to identify the features that will provide the most value to your taxi booking business and customize your taxi app to meet your specific needs. From real-time tracking and in-app payments to multi-language support and driver management tools, our must-have features can help you stay ahead of the competition and grow your taxi business.
White Label Taxi App Development Company
White label taxi booking app development solutions includes creating a taxi booking app that can be rebranded and customized for your business. At Codeflash, we offer white label taxi app development services that enable you to launch your own taxi app quickly and easily. Our team of experienced dedicated developers can customize your taxi booking app with your branding, features, and functionality, providing you with a unique and tailored cab booking solution that meets your specific business needs. Whether you're a taxi business startup or an established transportation business, our white label taxi app development services can help you establish a strong online presence and increase your revenue.
Looking for best taxi booking app development company?
Look no further! Our on-demand taxi booking app solution will drive your business forward and put you in the driver's seat.
Or Call us at (+91) 94264 02996 | (+91) 82388 68641
Deliver Flawless Services to Customers with Texi App Development With Ai
Managing a ride-hailing business can be a complex and time-consuming task. That's why taxi booking management automation is becoming increasingly popular in the industry. By automating various aspects of your taxi booking app, you can save time, reduce errors, and improve the overall efficiency of your business. At Codeflash, we offer customized ride-hailing app development, taxi dispatch management software development services that include automated management features. Our experienced team of full stack developers can create a taxi booking app that automates tasks such as driver dispatch management, payment processing, auto trip scheduling, and more. By automating taxi business processes, you can free up time and resources to focus on other important aspects of your business, such as marketing, customer service, and growth strategies.


A taxi booking app management can also improve the customer experience. With features like AI based taxi booking for available drivers, real-time tracking, automated fare estimation, and in-app communication, you can provide your customers with a seamless and hassle-free ride-hailing experience. By leveraging the power of automation, you can differentiate your business from the competition and build a loyal customer base that keeps coming back for more. At Codeflash, we understand the importance of BI and intelligence in  cab booking app development, and we strive to incorporate the latest technologies and trends into our solutions. Contact us today to learn more about how we can help you automate your taxi booking app management and take your business to new heights.
Want to Hire dedicated team for Texi app development solutions?
Hire taxi booking app developers for your taxi business at best prices. We have a team of dedicated front-end & backend developers to start your project from today. Check it out our latest taxi booking app features.
01
Registration and login for riders and drivers
02
Real-time location tracking for drivers and riders
03
In-app ride booking and payment processing
04
Driver availability and ride acceptance notifications
05
Ride cancellation and rescheduling options for riders and drivers
06
In-app communication between riders and drivers
07
Ratings and reviews system for riders and drivers
08
Driver earnings and payment management
09
Ride history and trip details for riders and drivers
10
Admin panel for managing drivers, riders, payments, and app settings.
11
Multiple payment options
12
In-app promotions and discounts
13
Multi-language support
14
SOS and emergency features
15
Integration with other transportation services like public transit and bike rentals.
Want to upgrade or redesign your Texi app with the trending feature?
Or Call us at (+91) 94264 02996 | (+91) 82388 68641
Factors that Impact the Cost of Developing a Texi App
Budget blues? Don't let these factors drive up your taxi app development costs! Stay ahead of the game with our insights on what impacts the price tag.
Passenger App
Driver App
Admin App
Passenger App
Passenger App
At Codeflash, we have developed an on-demand taxi booking app that comes with a passenger app that is designed to provide an exceptional user experience. Our app is loaded with a host of features that make it easy for passengers to book rides with just a few clicks.
Driver App
Admin App
Uber/ Ola Clone Vs Custom Taxi Booking app development
Are you tired of blending in with the crowd and being just another face in the crowd? Then why settle for readymade uber clone script, source code (ready to go Taxi booking app script) when you can have a custom Taxi Booking app development solutions that's tailor-made just for you? With a custom app development company, you can be as unique and individual as a uber leading in fleet industry.
Custom Taxi App Development
Custom Taxi Booking App offers a number of benefits over readymade Taxi Booking App clone solutions. Whether you're a small local Taxi services company or a custom Taxi Booking app development can help you reach new customers, streamline your operations, and enhance the customer experience with some reasons:
Buy Uber Clone Source code
Cloning a uber like Taxi Booking App essentially means creating a copy of uber clone, with similar features and functionality. However, it is important to ensure that your new uber clone source code offers enough unique value and differentiation to stand out from the competition and attract users. Benefits are:
why choose codeflash infotech?
Codeflash is a leading taxi app development company that has helped numerous businesses set up and grow their ride-hailing operations online. Our qualified team of developers delivers top-notch taxi booking app solutions tailored to meet the specific needs of our clients.
Expertise
Codeflash has a team of experienced developers who specialize in taxi app development.
Customization
We offer customized solutions tailored to meet the specific needs of our clients.
Cost-effective
We provide cost-effective solutions without compromising on the quality of our work.
Timely delivery
We prioritize timely delivery to ensure that our clients can launch their app on schedule.
Support
We offer continuous support and maintenance services to ensure that the app runs smoothly and efficiently.
Innovation
We use the latest technologies and industry best practices to deliver innovative solutions.
Build Similar solution with our Taxi Booking App development company
We understand that customers have a variety of needs beyond just Taxi Booking App. That's why we're proud to offer additional on demand multi-delivery app development services. Whether you're in need of grocery delivery, liquor, prescription medication, over-the-counter remedies, or even personal care items, we've got you covered.
Frequently Asked Questions for Taxi app development