Top Uber app Features while creating an uber clone app
Looking for someone to build an app like Uber Or want to redesign uber clone app? Not Sure about which top uber app features you want to develop while starting a ridesharing or a taxi booking business?
Codeflash Infotech, A top taxi booking app development company in USA, having a business growth team for our clients who guide you the must have features in your taxi booking app.
We've compiled a list of the top Uber app features that will revolutionize your ride-sharing experience. From saving time and money to increasing safety and convenience, these must-have taxi booking app features are guaranteed to elevate your Uber like app development with AI-POWERED. So buckle up, sit back, and discover how you can get the most out of one of the world's most popular cab booking apps.
What is Uber App? - How to setup an uber app clone?
The Uber app is a ridesharing app that allows users to request and pay for rides with the tap of a button. It's available in over 600 cities worldwide and is constantly adding new features to scale user the experience even better. Here are some of the most common top taxi booking features that you will get in all redymade uber clone scripts, source codes.
So In this era of AI-powered app ideas, you can start your cab booking business with MVP version of taxi app clone solutions. Let's talk about your business and recommeded taxi booking app features.
Request a ride with the tap of a button:
With the Uber app, requesting a ride is as easy as tapping a button. Whether you're heading to work or going out for a night on the town, you can get where you need to go without any hassle.


Pay your driver through the app:
No need to carry cash around with you anymore! With the Uber app, you can pay your driver directly through the app. All you need is a valid credit or debit card, and you're good to go.


Track your driver's progress:
Wondering where your driver is? With the Uber app, you can track their progress in real time so you know exactly when they'll arrive.


Rate your driver after each trip:
We all like to be able to give feedback, and with Uber, you can rate your driver after each trip. This helps us ensure that only the best drivers are on the road!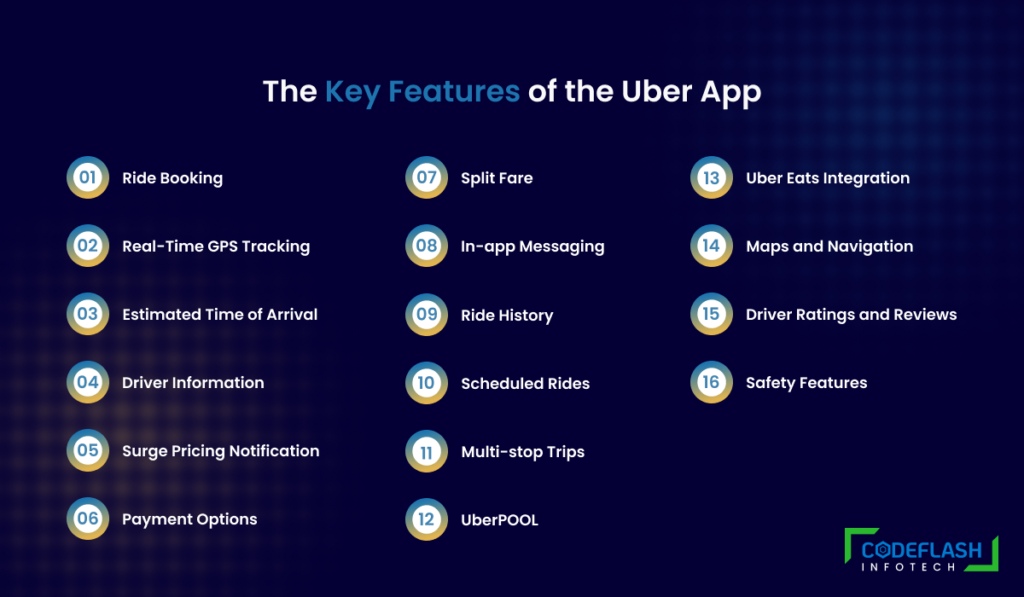 The Key Features of the Uber App
Ride Booking:
Ride Booking is the fundamental feature of the Uber app. It allows users to request a ride by entering their pickup and drop-off locations. Users can input the addresses manually or use the GPS feature to automatically detect their current location. Once the ride request is confirmed, the app sends it to nearby available drivers.


Real-Time GPS Tracking:
The Uber app provides real-time GPS tracking, allowing users to monitor their ride's progress on a map. They can see the driver's location and track their approach in real-time. This feature provides users with an estimated time of arrival (ETA) and helps them plan accordingly.


Estimated Time of Arrival (ETA):
The app calculates and displays the estimated time of arrival for the driver based on real-time traffic conditions and the distance between the pickup and drop-off locations. The ETA helps users gauge when their ride will arrive and plan their schedule accordingly.


Driver Information:
Uber displays the driver's information, including their name, photo, and rating. This transparency allows users to verify the driver's identity and feel more secure before getting into the vehicle.


Surge Pricing Notification:
Surge pricing occurs during periods of high demand when prices may temporarily increase. The app notifies users when surge pricing is in effect, ensuring transparency and allowing users to make an informed decision.


Payment Options:
Uber offers various payment options, including credit/debit cards, digital wallets (such as Apple Pay or Google Pay), and in some locations, cash payments. Users can securely store their payment information in the app, making the payment process quick and convenient.


Split Fare:
The Split Fare feature enables users to divide the ride fare with their friends or fellow passengers. Users can choose the "Split Fare" option in the app, select the contacts they want to split the fare with, and the app automatically divides the total fare equally among them. Advance feature so you can develop once your first version of app development finished.


In-app Messaging:
Users can communicate with the driver through the app's in-app messaging feature. This allows them to provide additional instructions or ask questions without the need for a separate messaging app or phone call.


Ride History:
The Uber app maintains a history of users' past rides, including details such as pickup and drop-off locations, fare, and driver information. This feature allows users to review their ride history for personal records, expense tracking, or reimbursement purposes.


Scheduled Rides:
Scheduled Rides allow users to plan by booking a ride in advance. Users can specify the pickup time and location, and the app automatically assigns a driver at the scheduled time, ensuring a timely arrival for important appointments or events.


Multi-stop Trips:
The Multi-stop Trips feature allows users to add multiple stops to their journey. Users can add additional destinations along the route, making it convenient for running errands, picking up friends, or making quick stops without needing to book multiple rides. this one is advance feature so you can add it after mvp taxi app development.


UberPOOL:
UberPOOL is a shared ride option that allows users heading in the same direction to share a ride and split the fare. This feature promotes carpooling, reduces traffic congestion, and offers a more affordable option for users. When selecting UberPOOL, the app matches users travelling in a similar direction, optimizing the route and minimizing detours. Integrate only when you have ride sharing business model.


Uber Eats Integration:
In select locations, Uber has integrated its food delivery service, Uber Eats, within the app. Users can seamlessly switch between requesting a ride and ordering food for delivery, all within the same app. This integration provides users with a convenient way to satisfy their food cravings while using the Uber platform. This feature only needs when you have food delivery business as well.


Maps and Navigation:
Assuming you are referring to the Uber app, there are a few key uber app features regarding maps and navigation. To start, the app will show you the nearest available cars depending on your location. Once you've chosen your vehicle, you can see an estimate of how long it will take for the car to reach you. The map also shows the route that the driver will take to pick you up, as well as an estimated time of arrival. Furthermore, you can track your driver's progress on the map as they make their way to you. Must needed feature to give right user experience.


Driver Ratings and Reviews:
If you're considering using Uber, one of the first things you'll want to know is what other people think of the service. Fortunately, there are plenty of online resources that can give you an idea of what to expect. One of the best places to start is with driver ratings and reviews. These can be found on a variety of websites, including Uber's website. Driver ratings and reviews can give you a good sense of what it's like to use Uber from the perspective of someone who uses the service regularly. Our taxi app developers always recommend rating and review features to get real feedback from customers and drivers as well.


Safety Features:
When it comes to safety, Uber takes a few different measures to ensure that both drivers and riders are protected. For riders, there is the option to share their trip with friends or family so that someone knows where they are at all times. There is also a GPS tracking system in place so that Uber can see where riders and drivers are at all times. this feature is always needed to get license of your taxi booking online.


Benefits of Using the Uber App - Let's Build Uber like App
Convenience:
Uber offers unparalleled convenience by allowing users to request a ride anytime and anywhere with just a few taps on their smartphone. Users no longer need to search for taxis or wait at designated stands.


Ease of Use:
The app's intuitive interface and user-friendly design make it easy for anyone to navigate and book a ride. Users can quickly enter their pickup and drop-off locations, choose a vehicle type, and confirm their ride request in a matter of seconds.


Wide Availability:
Uber operates in numerous cities and countries worldwide, offering a vast network of drivers. This widespread availability ensures that users can access reliable transportation options in various locations, both urban and rural.


Time and Cost Efficiency:
With Uber, users can save time and money compared to traditional taxi services. The app provides estimated fares upfront, allowing users to compare prices and choose the most cost-effective option. Additionally, the GPS tracking feature helps drivers navigate efficiently, reducing travel time.


Transparent Pricing:
Uber's upfront pricing model ensures transparency in fare calculation. Users know the exact fare before confirming the ride, eliminating concerns about meter tampering or surprise charges. Surge pricing notifications also provide transparency during peak demand periods.


Safety and Security:
Uber prioritizes user safety through various features. Users can view driver details, including their name, photo, and rating, before the ride. The in-app messaging feature allows communication without sharing personal contact information. Additionally, Uber integrates safety features like emergency buttons and the ability to share ride details with trusted contacts.


Cashless Payments:
Uber offers multiple cashless payment options, including credit/debit cards and digital wallets. Users can securely store their payment information in the app, eliminating the need for physical cash or card transactions during rides.


Ride-sharing Options:
Uber provides ride-sharing services like UberPOOL, which allow users to share rides with others heading in the same direction. This option reduces costs, promotes carpooling, and contributes to minimizing traffic congestion and environmental impact.


Accessibility:
Uber offers accessibility options for riders with disabilities. Users can request vehicles equipped with accessibility features, such as ramps or wheelchair-friendly vehicles, depending on availability in their location.


Integration with Other Services:
Uber integrates with various third-party services, such as Uber Eats for food delivery. This integration allows users to conveniently switch between ride-hailing and food-delivery services within the same app.


Ride History and Receipts:
The Uber app keeps a record of users' ride history, including trip details, pickup and drop-off locations, fare, and driver information. This feature allows users to review their past rides, track expenses, and retrieve receipts for business or reimbursement purposes.
Uber App is one of the most popular and feature-rich ride-sharing apps that people use around the world. So developing a ridesharing app always a right startup idea to start a business. still if you have any questions regarding
How much does it cost to develop Uber clone app?
What app should I build to make money?
What are the common features in Uber app clone?
What are the advantages of Uber clone?
I have more queries.
Feel free to write us at admin@codeflashinfotech.com  we will get back to you with expert advice.