A Complete Guide to Essential Uber App Features
Revolutionising the sector, on-demand services empower businesses to provide top-notch apps and secure online services. As a trusted tech partner, we enable diverse companies to access a comprehensive taxi booking app, integrating all Essential Uber App Features.
Ensure your app has all of the following elements and Essential Uber App Features if you intend to build an app similar to Uber. Remember that people will adore what you offer if you integrate the package successfully. You may pivot your business to take advantage of such offerings to gain significant market share.
Check out the Essential Uber App Features listed below for creating an Uber-like app.
The 12 most essential Uber app features of a complete ride-sharing platform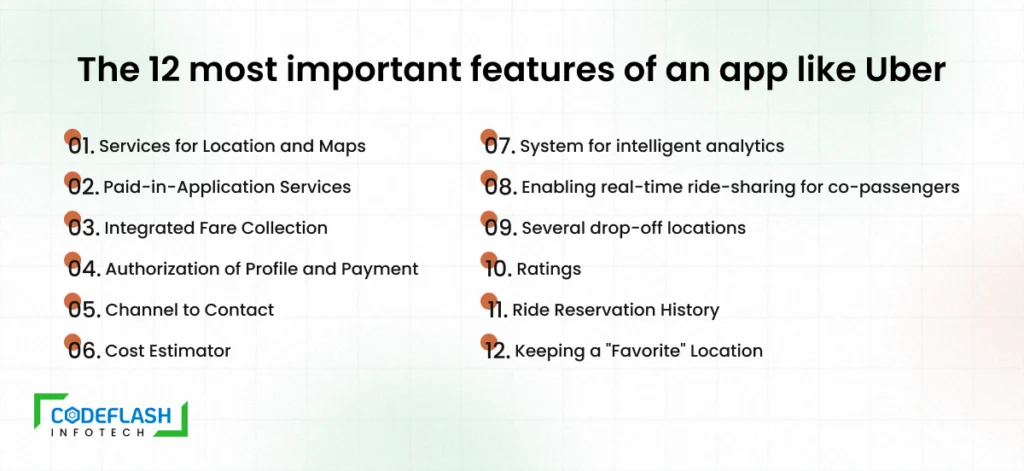 Services for Location and Maps
Paid-in-Application Services
Integrated Fare Collection
Authorization of Profile and Payment
Channel to Contact
Cost Estimator
system for intelligent analytics
enabling real-time ride-sharing for co-passengers
Several drop-off locations
Ratings
Ride Reservation History
Keeping a "Favorite" Location
1. Services for Location and Maps
To host a taxi, users must ask the drivers to locate it precisely. GPS tracking and Google Maps can determine your location, even if your smartphone isn't working. Without this crucial taxi app function, the user may need to give the driver many directions over the phone. The passengers' annoyance will also result in a negative experience and low reviews. Drivers may reach the passenger seat by navigating all highways and roads independently using Google Maps. Your mobile app's foundation will comprise functional plans and location-based capabilities.
2. Paid-in-Application Services
One of the primary functions of Uber applications is in-app purchasing. Nowadays, money does not necessarily need to be tangible because Uber has an in-app payment system that makes the payment procedure seamless and believable. A completely compliant payment gateway is required when you want an Uber-like service. Passengers can automate the payment process using integrated payment systems. Even while technological integration increases sophistication, it improves the customer experience, which is crucial to the business's success.
3. Integrated Fare Collection
Drivers must make the payment without using actual cash deposits. The ideal approach to make this possible is to request that the drivers sign a contract and select a billing cycle. There is no need for manual paperwork since your app should provide a payment option that enables the driver to pay you from their collected fees, obviating the need for administrative staff to interact with drivers in person to collect money.
4. Authorization of Profile and Payment
Users must be able to create profiles on the app. The authorization makes it possible to legitimately pay for each ride taken online since, with the approval, all electronic payments would constantly succeed. You can also provide the driver's details, such as their license number, vehicle registration number, contact information, etc. Keeping track of the knowledge of the passengers and using it to forecast where they will end up is also helpful.
You may inform clients about the numerous specials and offers your taxi booking software makes available by setting up a contact channel with them. You can send push notifications or in-app updates to keep your consumers informed. Additionally, it may be used to communicate critical information or policy changes to passengers via in-app notifications.
The annoyance of users might be decreased if a rate card is made accessible within the app. Higher satisfaction and better app store ratings would result from including the fare calculator in an Uber-like app. To avoid any misunderstandings or interruptions between passengers and drivers, it's also an excellent idea to assist passengers in thinking through the costs for which the price calculator will help to estimate the payment before accepting the journey.
7. System for intelligent analytics
Obtain data, analyze it every month or day, and then enhance your company to understand better how your taxi app business is performing. You can identify where your business needs to improve and where it is succeeding with information from well-presented reports on every area. To optimize your taxi app booking system, including an analytics solution will help you analyze daily requests, reservation sources, issued vs missed requests, and more. By utilizing the proper data analytics solution for your taxi app, you can ensure that only data-supported decisions are made.
8. Enabling real-time ride-sharing for co-passengers
You are gaining users' confidence by enabling the ride-sharing feature in your Uber clone app. The purpose is to have someone else monitor the driver's progress and inform everyone whether the passenger has arrived safely home. Additionally, it is helpful if you are unfamiliar with a place and need help seeing the route. Sharing the information will enable you to determine whether the driver's way is appropriate and will also allow you to alert friends and relatives to the rider's safety.
9. Several drop-off locations
What happens if a ride has many passengers and stops at various locations for drop-offs? To make the user's driving easier, let them choose from multiple drop-off locations on your app. Make sure consumers may add numerous stops to their trips when they book them, and provide them with the option to do the same after they get to their destination.
Custom input in the form of quantitative ratings enables us to assess their ride quality. A successful Uber-like app will include a review system that ranks the driver, vehicle, route, and even the driver's behavior. To ensure that customers give your taxi app services honest reviews, your app has to be tested and examined. As a result, operations are enhanced, and company weaknesses and loopholes are better understood.
11. Ride Reservation History
Make sure users can preserve their journey history and add it to their profiles. The driver app will also have a section for journey history. This makes it easier for them to verify the trip's specifics as needed. The account of the journey allows the driver to monitor their prior earnings. They may also track their journey using this taxi app function, using it as a reference if there is a mismatch between payment and the number of trips.
12. Keeping a "Favorite" Location
Instead of repeatedly inputting the exact location, users may remember their objectives to choose the precise locations in the future. This makes it quick and easy to plan trips and book taxi services. Combining these can significantly improve the rider's entire app booking experience.
All of the aforementioned essential Uber app features of a complete ride-sharing platform include elements successfully implemented in the Uber app may be combined by anybody wishing to create a profitable taxi booking app. You might integrate various other critical features to improve the app. Remember that developing an app similar to Uber is possible with a plan at the outset.
As a result, working with skilled taxi app developers like Intelivita might significantly improve your chances of breaking down audience silos. To guarantee that our app development team is working to its full potential, clarify the project's scope and necessary features.

Before launching your ride-sharing business, read our article on the "Top 10 Carpooling and Ride-Sharing Apps for 2023" to help you decide on additional features beyond what's essential in the Uber app. This resource can be invaluable for your research.