A Dating App Development Guide - Cost, Features & Types
Do you recall when people visited pubs or coffee shops to find dates? After a decade, Match websites rose to fame and assisted individuals in setting up dates online.
But everything has changed since the introduction of applications like Tinder. Online dating has transformed how people connect. Instead of venturing out, they browse profiles and arrange dates with ease. Its popularity has surged, with many Americans favouring online encounters. Compared to traditional methods, it offers numerous advantages, explaining the current popularity of dating app development. Millions now rely on dating apps to find their perfect match, drawing entrepreneurs into this lucrative field. Yet, creating a dating app is complex; it demands substantial commitment, effort, and financial investment.
Here is your comprehensive guide if you have a fantastic dating app development concept but need help knowing where to begin.
Latest Dating Apps Statistics, Trends
In 2021, the online dating app market was valued at USD 7.55 billion, with a projected 12.65% CAGR during the forecast period. Paying subscribers are expected to contribute $3.7 billion to global dating services.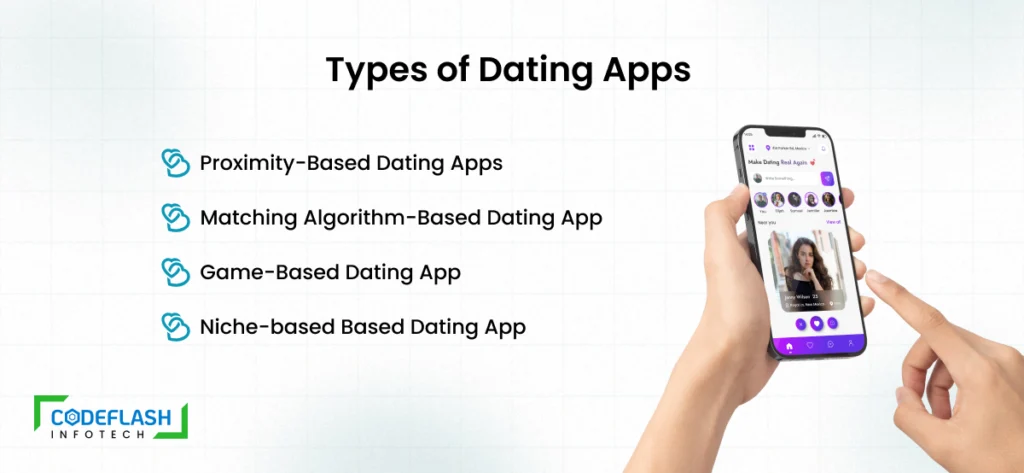 Different types of dating apps includes
More than 1,000 dating portals are launched annually. As the dating app statistics indicate, they may be used for more than finding dates or true love. People use dating apps for various reasons, including amusement, relaxation, making friends, etc.
A unique dating app that fits your organization's needs and marketing plan may be created by an iOS or Android app development firm by integrating several features.
Overall, a variety of dating app kinds may be created to appeal to a wider population.
Let's examine the four primary categories:
Proximity-Based Dating Apps
These dating applications allow users to browse and interact with profiles close to their current location. As a result, they provide a better chance of their users becoming close.

A great illustration of a proximity-based dating app is Grindr, a mobile app for LGBT people looking to date. According to Reuters, the Grindr app's Chinese owner sold it for $620 million. Grindr is one of the most popular dating applications, with 1.64 million users in the U.S.

Matching Algorithm-Based Dating App
These applications pair up users based on their shared preferences, areas of interest, etc. Upon initial registration, users are given various questions and prompted to select their areas of interest. The program then searches its database to present the user with effective matches.
Game-Based Dating App
With dating applications based on games, online dating is elevated to a new level. Offering games enhances the app's engaging quality and serves as a focal point of interest for users.

A dating app based on games enables users to communicate with possible matches through messages, voice calls, video chats, etc. A well-known example of a game-based dating app is Hago, which brings people together through a lighthearted match on a mobile device.

Niche-based Based Dating App

 

A niche-based dating app effectively lowers market competition because it is designed for a certain demographic. The drawback is that only some people are using it.

A niche-based dating app caters to certain demographics, such as older folks, dog lovers, etc. Tindog, SeniorMatch, and other well-known specialized dating websites are just a few examples.

After discussing the main categories of dating apps, let's look at the fundamental components of any dating app.
Here are the Features of an Advanced Dating App
User registration should be seamless, allowing sign-up via social networks, email, or phone. Users must easily create profiles, providing essential details like their nicknames.
Description of Oneself Age Gender Weight Ethnicity
Status of relationships
areas of expertise
In the portion of dating apps where you create your profile, you may add many more details. However, the reputable Android app development business must include alternatives that allow users to reveal or hide personal information as they see fit.
Dating applications with geolocation navigation provide users with an advantage in the cutthroat online dating industry by letting them interact with profiles of people in their area. Users may share, receive, and navigate to genuine meet-ups and date places.
Multiple filters must be available to users so they may search profiles by filtering them according to their preferences and likes. Online status, interests, age restrictions, race, and other common criteria are all employed in dating applications.
Handling requests for connectivity:
When exploring the app, a user must be able to submit, accept, or reject requests for connectivity with just a few touches. Dating apps also have banning tools to help you deal with problematic people.
Users may browse and interact with people they have matched with using the app in the Match Feeds area.
Calling (including voice and video calls) and chatting capabilities must be available in the app's communication area. To provide a good UX to online lovers, including love emoticons, catchy slogans, gifs, etc., is crucial. 

Social Media Integration:
Users of dating applications who can share their Facebook, Instagram, and other social media profiles bond more quickly. It also increases the user's perception of the app's legitimacy.
Trusted Payment Methods:
Adding well-known payment methods to the application improves conversion. Depending on its business strategy, the app can charge the user after the trial time or for access to additional features.
Rewards & Offers:
A dating app is only successful if it has a large user base. Therefore, it is crucial to benefit the app's new and current users.
Admin Dashboard:
The app's governing committee and administrator can see the dashboard. It enables the dating app's administrator to carry out several functions.
The following are the primary tasks performed utilizing the dashboard:
In charge of notifications
The user's profile being checked out
Providing reductions
Taking charge of memberships, deals, and packages
running advertisements when using a free app model
Using email marketing strategies
The app's content management.
looking at reports
Analytics of Data


Codeflash Infotech tailors the app's dashboard to the demands and specifications of the customer.
Monetizing Strategies of Your Mobile Dating App
The dating app may make money in various ways, just like any other mobile app. The following are some ways that your dating app might generate income:
Advertisements within apps:
This is the most typical method of making money from a mobile app. In-app adverts become a realistic alternative for generating revenue if your program has attracted a large user base.
The app's paid subscription:
Many popular dating apps let users utilize or unlock several additional features in exchange for a paid membership, like selling the app instead of the app itself. For instance, proximity-based applications like Grindr provide users access to an infinite number of profiles, several filters, etc., in their premium versions. Similarly, the matching algorithm-based software Tinder offers subscribers unlimited swipes and access to other features.
Users frequently want to purchase one or a few of the more sophisticated services an app offers. Thus, the app may be customized to sell special features rather than just a full-time subscription. So, as you know, Tinder offers users full memberships and access to premium services.
eCommerce Integration:
The mobile dating app may be coupled with eCommerce functionalities to send presents to one another. To ensure smooth app functionality, it's vital to use a distinct icon for the eCommerce section, preventing potential issues.
What is the typical price range for creating a dating app?
dating App development cost depends on features, complexity, and development duration. The target platform and the technology used both affect the price.
Mobile dating applications are moderately sophisticated and must provide various services to consumers. The actual development cost becomes known after a thorough analysis and discussion of the project. However, it often falls between the following range: 
| | |
| --- | --- |
| Mobile App Type | Average Price |
| Native Android Dating Mobile App | $25000 |
| Native iOS Dating Mobile App | $25000 |
| Hybrid Dating Mobile App | $45000 |
Codeflash Infotech recommends cross-platform like flutter dating app development. It gives a larger audience reach and cheaper app development expenses than would otherwise be paid in separate, dedicated development over two platforms (Android & iOS).
When selecting the ideal mobile app development company for creating a dating app, what criteria should you consider?
Selecting the right IT Consulting company can significantly impact the success of your dating app development project.
To guide your choice, consider the following key factors:
Company size and scope:
You should pick a business that is sizable enough to accomplish your project but not so sizable that it won't be adaptable and able to meet your particular demands.
Experience and knowledge:
Make sure the business you select has a lot of expertise in creating dating applications. They must be aware of this kind of software's particular difficulties and opportunities and be ready to offer direction and help throughout the creation process.
Cost:
Of course, price needs to be considered while selecting a dating app development firm. Make sure to request estimates from several businesses to compare costs and services.
Location:
It's crucial to pick a business headquartered in a nation with stringent data privacy regulations, such as the U.K. or Ireland. This will guarantee that the data of your users is protected.
Customer service:
When selecting a dating app development business, remember to consider customer service. It would help if you collaborated with a receptive and helpful team to receive the assistance you require during the development process.
Frequently Asked Questions