Trendy Ways On How To Reduce App Development Cost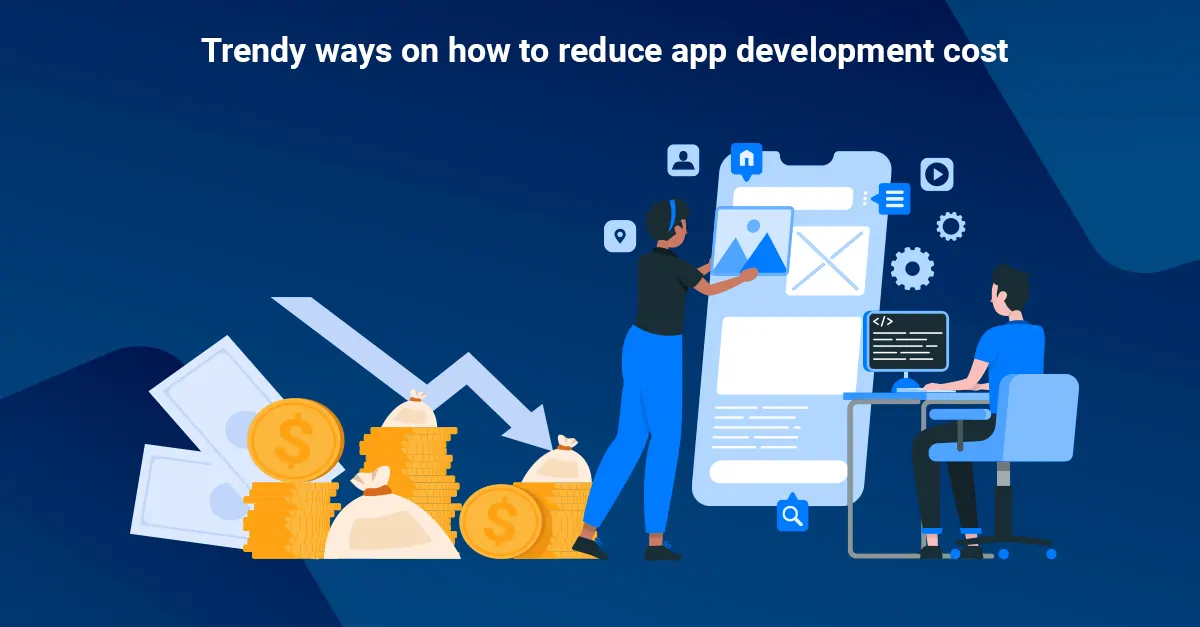 Gone are the days when only one family member had access to mobiles. Today everybody has access to a mobile device with internet access. So if this is the scenario, then having a mobile application for business activity is more beneficial than having a web application. But even before you plan to have a mobile app for your business, you need to consider its pros and cons.
Let us assume that you will go into a mobile app business and have all the bright ideas needed, but your budget or spending limit is limited. What is the solution? It is as simple as finding out ways to reduce app development costs.
Let's jump straight into exploring them!
Project requirements and participants
Once you have precise project requirements, many things will become apparent, such as setting a budget, estimating the cost, and allocating them in the best possible ways. Having the list of required human resources for app development is crucial, and it contains the following personnel.

Client-side: Project Manager(s) or an owner of the startup(who will come up with requirements).
Development team: Project manager, Android/IOS developer, UI/UX developer, Q&A team.

Don't invent the wheel again
One should act in a thoughtful way to develop a budget. App development ideas must be crystal clear before hiring a team of experts. The clearer you describe the idea, the better it would be to cooperate with developers. Of course, it is difficult to come up with the idea for an application that is the first of its kind in the market and has no market analogues but still going to be helpful to a large mass.
Minimize the app functionality
There is always going to be the primary function in every app. So
focus on it rather than unnecessary features. If possible, remove them. To reduce app development costs, always start with a prototype model. It helps in understanding requirements at an early stage, and it helps in providing smooth interaction between developers, designers, users, and clients.
Errors and QA team
If errors are found during the development level, it will take only five hours to solve them, but if errors are found at the production phase, it will take around fifteen hours to fix them. QA team is always considered an underdog, but it is not valid. An experienced QA team will perform all the needed testing and help create an app bug-free.
Use automated tools for testing
Many automated tools for testing are available in the market at a great price. Automated tools will also minimize human testing errors and ultimately save cost.
Take your time with project deadlines
To reduce errors and bugs in an app, one must not hurry his developer's team. Give developers enough time needed for the project completion.
Conclusion:
Summing up, to reduce software development costs, you need to choose the right one along with precise project requirements, avoid unnecessary functionality in an app, use automated tools, and don't hurry developers.
On-demand app statistics
The on-demand mobile app economy is expected to reach $335 billion in its valuation by 2025.

49% of on-demand consumers are millennials.

Users of on-demand apps are of all ages and demographic. Both millennials and old use these apps alike.

Currently, about 93 million people are using these apps for various purposes.
Let us explore statistics of different sectors of business that run on on-demand apps nowadays.


On Demand Food App
The food industry is expected to touch a market volume of $182,327 million by 2024.
Platform-to-consumer will be the highest revenue-generating business in the food delivery business.
Taxi Booking App Services
It is projected to touch the US $218 billion market value by 2025.
Uber has a 69% market share in the US.
Online Grocery Delivery Statistics
It will touch the US $20 billion market value by 2023.
45% of millennials are users of this type of app.